Conor Mcgregor vs Denis Siver
After watching the previews and reading articles you might wonder if Conor McGregor is fighting anyone at all or just making an appearance. Conor is a 10 to 1 favorite over Dennis Siver and has a fantasy draft price tag of $12,700. It's hard to pick against McGregor in this fight...but is he worth a spot on your fantasy draft at this price?
Looking at his past stats he finishes most of his fights early and when he doesn't he's landing close to 100 significant strikes in a three round fight. This is a five round fight because it's the show headliner, one more reason not to fade this fight. You can expect McGregor to pull in 100+ points with a win, at his price that's still only $127 per point, a great value. The only downside to having "Notorious" on your team is that it will put some limitations on the rest of your available picks.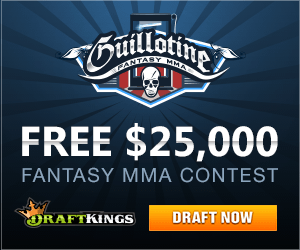 You will want to pick one other favorite for your team, and after that your budget will be pretty low. that means you will need one heavy underdog on your roster like, Lipeng Zhang or Louis Taylor for your money to make it the distance. That's a pretty big risk with the bottom of your roster. It's a tough call when so much of the card is filled with fighters who have little UFC history to base your picks on. If you have the knowledge though, you will create a real advantage by picking those unknown fights correctly and setting yourself apart in the big GPP contests
Head over to DraftKings and enter a few contests. Join through my links and you'll get a 100% bonus, a Free Entry into the $25,000 Guillotine contest, and the chance to kick my ass in the Fantasy Octagon.